Welcome to IPBroker.eu


The world is short of IP-Addresses! Thousands of IP-Adresses are getting an important use daily and make the unique growth of the internet possible.
The global supply is exhausting now. Therefore we want to help with supplying urgently needed address ranges for buyers, marketing unused ranges for sellers and generating win-win situations for both parties.
Safe, trusting and 100% transparent!

Our pricecounter is informing about latest conditions based on previous transactions: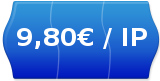 Please note that prices may vary depending on range size and history. This indication is no offer, but a calculatory basis.
For buyers

We find perfectly matching ranges
We offer you highly interesting options from our widespread network, which are perfectly suited to your needs. Thereby we undertake negotiations and save your pre-contractual anonymity against potential sellers.
Our escrow service secures your investment and eliminates the riscs of fraud.
If there is no suiting range available, our experienced agents will find your perfect offer in no time!
Read more …
For sellers

We market your IP-Addresses
We offer your ranges to serious buyers from our database and arrange the best possible deal according to your guidelines and wishes. Also in course of the following transfer, we assist both sides and help with frequently time-consuming conversations with regulators and administratives.
Of course you remain anonymous to the buyer before the transaction. Even after the transaction you are secured by our non disclosure agreements.